Manta is a beach town that regularly gets a lot of tourists visiting during their vacations. So you can be sure there will be a lot of people that want to enjoy an evening out and about. From very relaxed beachfront venues to a 5-star music lounge, this is our guide to Manta Ecuador Nightlife.
Cover photo by Isabella Mendes
Security in Manta at night
Before we get into the best places to visit, we should touch on some security advice. Manta relatively speaking is a very safe city, especially for tourists and expats who rarely stray from the nicer parts of town. I have been here 10 years and thankfully I have never been robbed or had any kind of trouble. My brother, however, was eating on the street a few years back at a quiet isolated burger joint, when 2 criminals hopped off a motorbike and held up the customers at gunpoint. Taking wallets, phones, and handbags very quickly and efficiently. It should be mentioned that there are a lot of areas where it would not be wise to walk at night. Remember a lot of people have to make ends meet on very little income, with a full-time minimum wage of less than $400 a month. There is a very little social safety net for people that have fallen on hard times, therefore poverty is a real issue here. So if you walk down a dark, quiet street with a Brand new iPhone and a nice watch. You are presenting delinquents with an easy chance to get a few months of wages in a matter of seconds. So please follow these some common sense rules;
Stick to the main entertainment, restaurants, and nightlife areas.
Walk on the main well lit and busy roads only.
Try not to flash around expensive fashion or technology accessories in isolated areas.
Only use professional licensed yellow taxis. Executive services are the best. You can call or message them to pick you up anywhere. They do not stop on the street.
Our best spots for Nightlife in Manta Ecuador
Where to begin was the hardest part of this article. Nightlife is a very vague term. It depends on a lot of factors. Are you looking to hang out and have a beer? Listen to some live music? Try your hand or feet at some Salsa or Bachata dancing. Or watch the sunset and listen to the waves crashing on the dark beach. Depending on your interests and moods I expect many of them will be interesting. So we have tried to include a large variety of styles and locations to cover all the bases. Remember these are in no particular order so take a look at whatever you fancy.
[optin-monster-shortcode id="hhtgtp4zih1vkz83msqd"]
Ecuablue – Santa Marianita
For late afternoons and early evenings you cant beat Santa Marianita for its amazing sunsets, sand, and sea. The hardest part of writing this article is limiting myself to only 1 photo per location. Ecuablue has so many great pictures. The Modern bar beach bar (chiringuito) and the main restaurant across the street are both build using traditional bamboo and woodwork with some white painted walls thrown in. The food is wonderful, especially the pizzas and BBQ dishes. The drinks and Cocktails are masterfully served in a relaxing yet luxurious atmosphere. For me, this is the perfect place to end a fun and busy day. They often host party events too so you can have a great time into the early hours if you wish, especially around the festival bank holiday dates. This is the same spot we usually end our Montecristi Hat Tour. As it is a great place to unwind and get a few cocktails before heading back to the ship.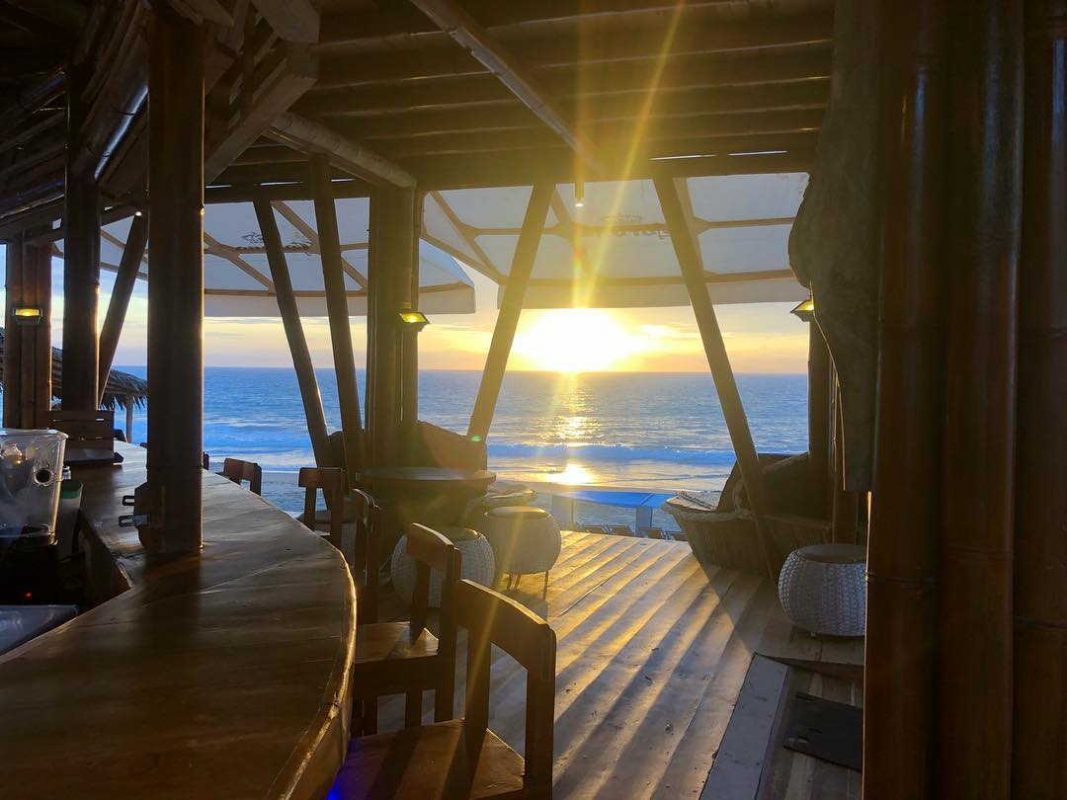 Cinema on the beach – Playa Murcielago
This is an interesting one I bet you didn't see coming. Some very nice people from Manta started a small but very special event. A few times a month they set up projectors and speakers on the beach. They are always very good movies. I recently saw the acclaimed 3 billboards here and loved every minute of it. They show films of such variation in origin and age that it is always nice to stop in and have a look. You can get drinks and snacks at the nearby bars and kiosks and then kick back on the sand and enjoy the sea breeze. Feel free to bring a blanket, a cushion or a foldable chair. It is a wonderful experience within the community and although many of the films are in spanish they can often put on the subtitles at request. If you prefer a more traditional cinema, the Mall del Pacifico has a great one just across the street.
This is a great way to relax after one of our Manta day tours.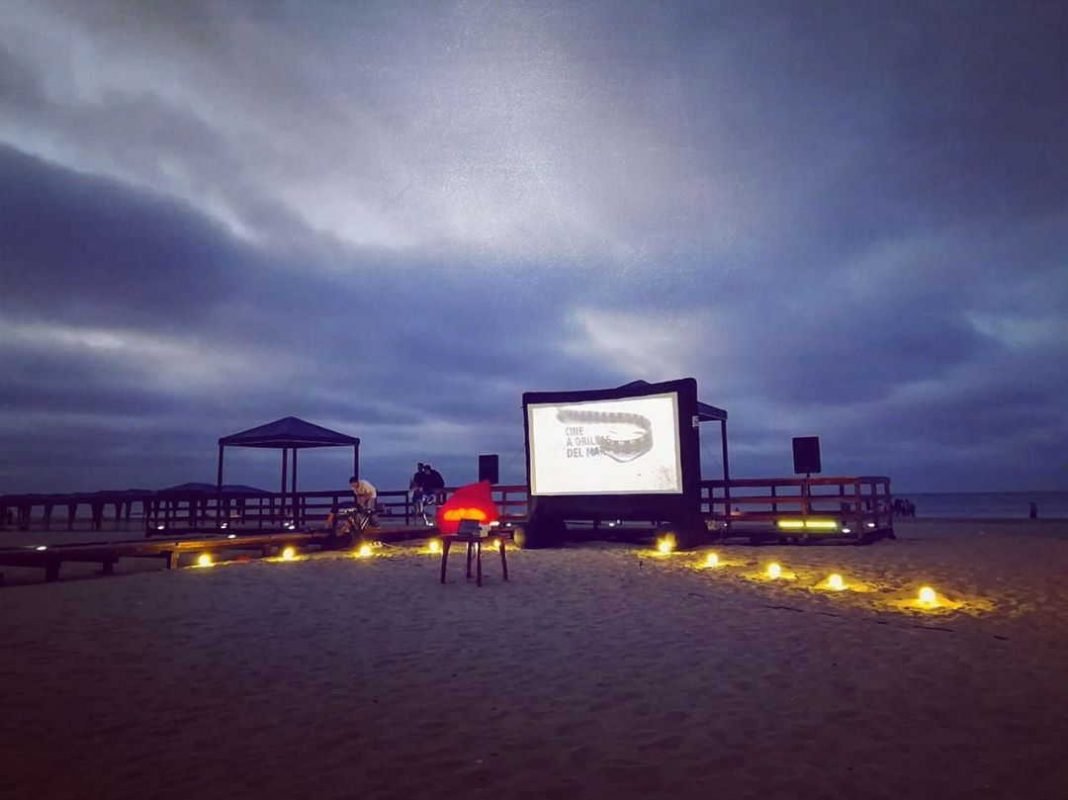 Piedra Larga – Vía San Mateo
If you're looking for a beachfront venue for a more intense kind of party, perhaps with some dancing but most definitely with lots of drink. Piedra Larga is a great choice. It is located on the outskirts of Manta, about 15 minutes drive from the centre. It is a small street of about 450 feet or 135 meters packed with small and medium Bars, restaurants and salsa clubs.
Be warned this place get sardine can full at times. Try not to enter the street with a car, the traffic will keep you there. Best to park elsewhere and walk down into the main street. The bars have open balconies facing the ocean, plenty of breeze and great food and drinks. The bars do tend to compete for who has the best music, so be prepared for some loud ones. So early afternoons and evenings you can get a nice meal and a drink here, but after 9 pm, it starts to get pretty wild. This is the local ideal of Manta Ecuador Nightlife. Make sure you bring your dancing shoes.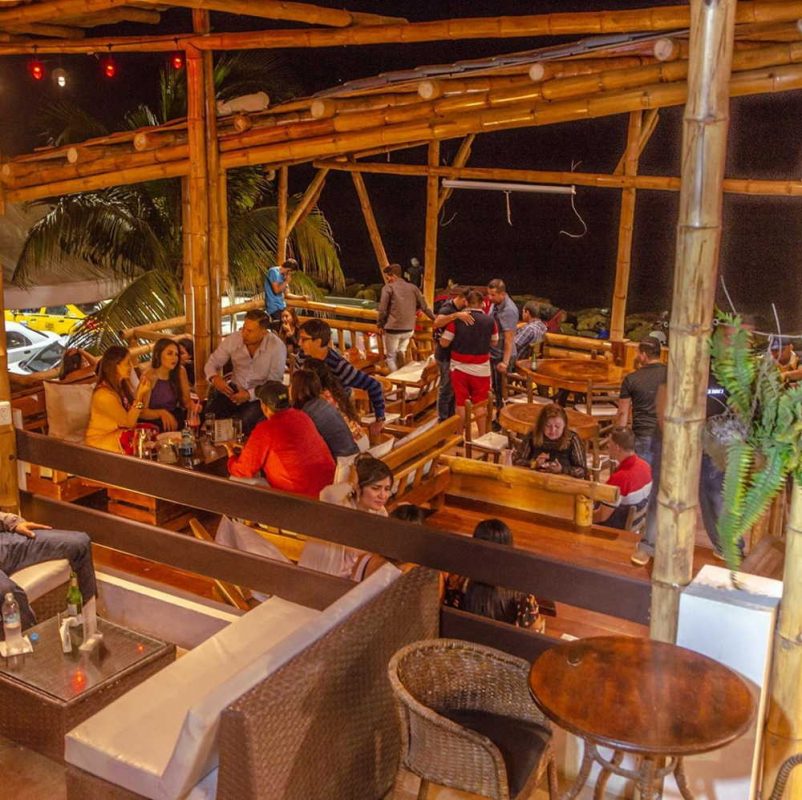 Avenida Flavio Reyes
This was the main party street in Manta for many many years. Now the higher-end bars, restaurants, and clubs are located to the west of the city. You will still find this street full to the brim, with the road often closed by police for the night clubbers and patrons of the street bars. Don't even think about driving down through there while the national team is playing football (soccer). The bars here focus on cheap drinks and lots of them. Many offering beer towers for a few bucks. Expect lots of people and lots of noise. This would be one of the areas that you definitely don't want to walk off into the side streets for safety reasons. Located a block from the Mall de pacifico and the beach it is very popular during the carnival beach festival as well.
Plaza del Sol – Via Barbesquillo
This bar, restaurant and nightclub complex was for the longest time the only high-end place to party. The Square is now a little dated but still has some great venues. Nice Bar resto spots Like ONE, and Attica one of the biggest nightclubs. Onsite secure parking as well of lots of safe street parking make this a very secure choice. Much better than the Flavio Reyes area. Well worth checking out for an evening meal or drinks or dancing the night away.
[optin-monster-shortcode id="hhtgtp4zih1vkz83msqd"]
Bowling – La Quadra
For a more active night out Manta recently got its first Bowling alley. Located in La Quadra, and small outdoor shopping mall plaza, on the top floor. It has 4 nice lanes and a spacious bar and restaurant for relaxing before or after the strike session. With only 4 lanes it can be a long wait during peak hours so book ahead and get there on time. They have some great deals during weekdays too.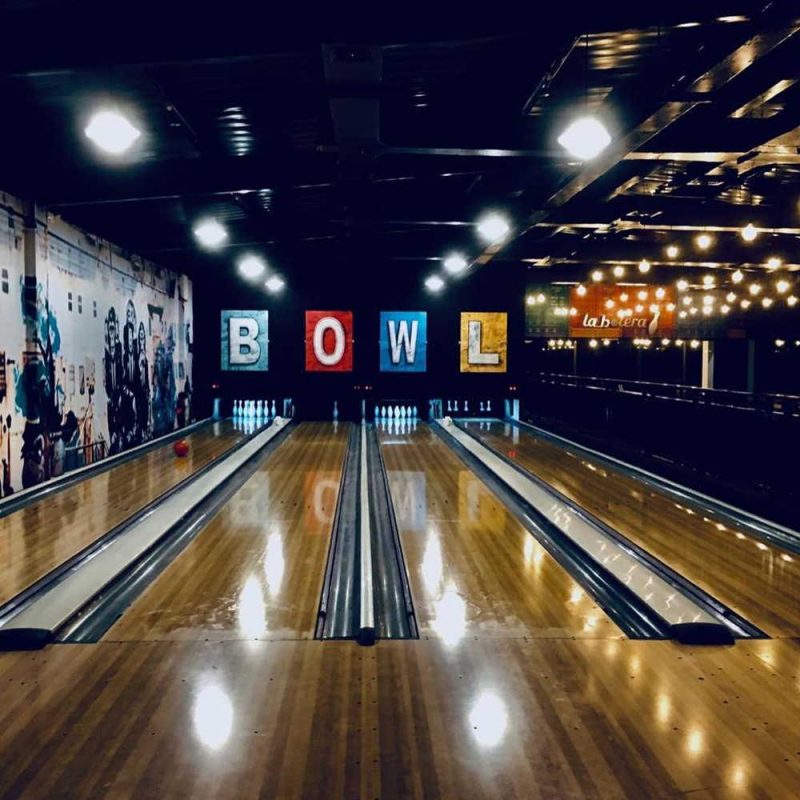 Stanza Piano Bar – La Quadra
This beautiful establishment has live music in a luxurious atmosphere every week. Normally Thursday through Saturday and often other days too. Check out their Facebook or Instagram to see the upcoming artist. Prices can be a little high for Manta, but the quality of the service and music is well worth it.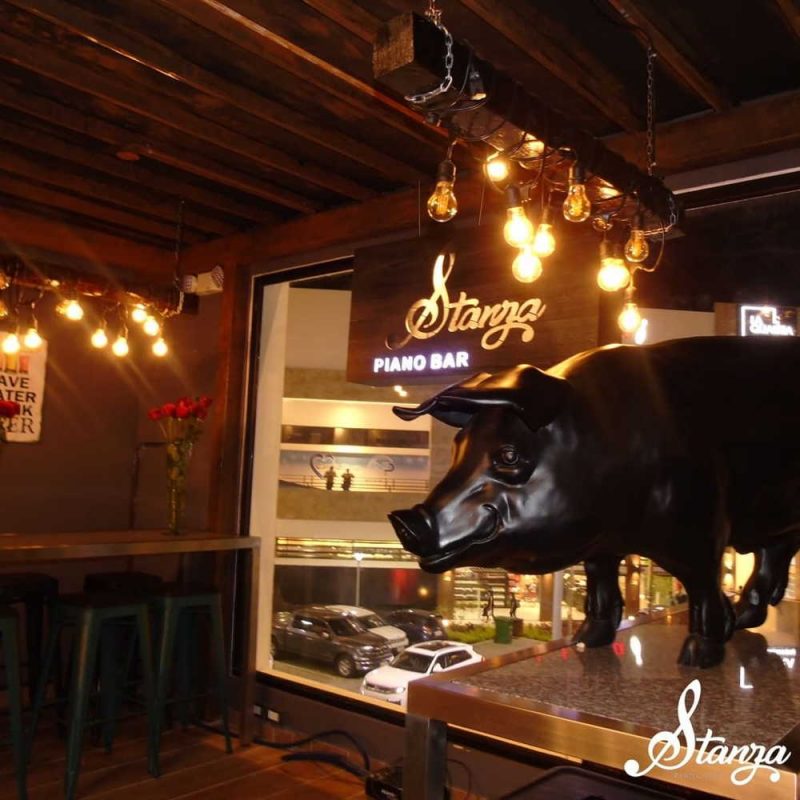 La Quadra – Various spots
This modern shopping plaza has more than just the 2 suggestions previously listed. There are several very nice bars, restaurants, a nightclub, and Icecream or coffee shops to check out. I think this is probably the best place to spend an evening in Manta because of the very safe and ample parking, outside areas and variety of options to choose from.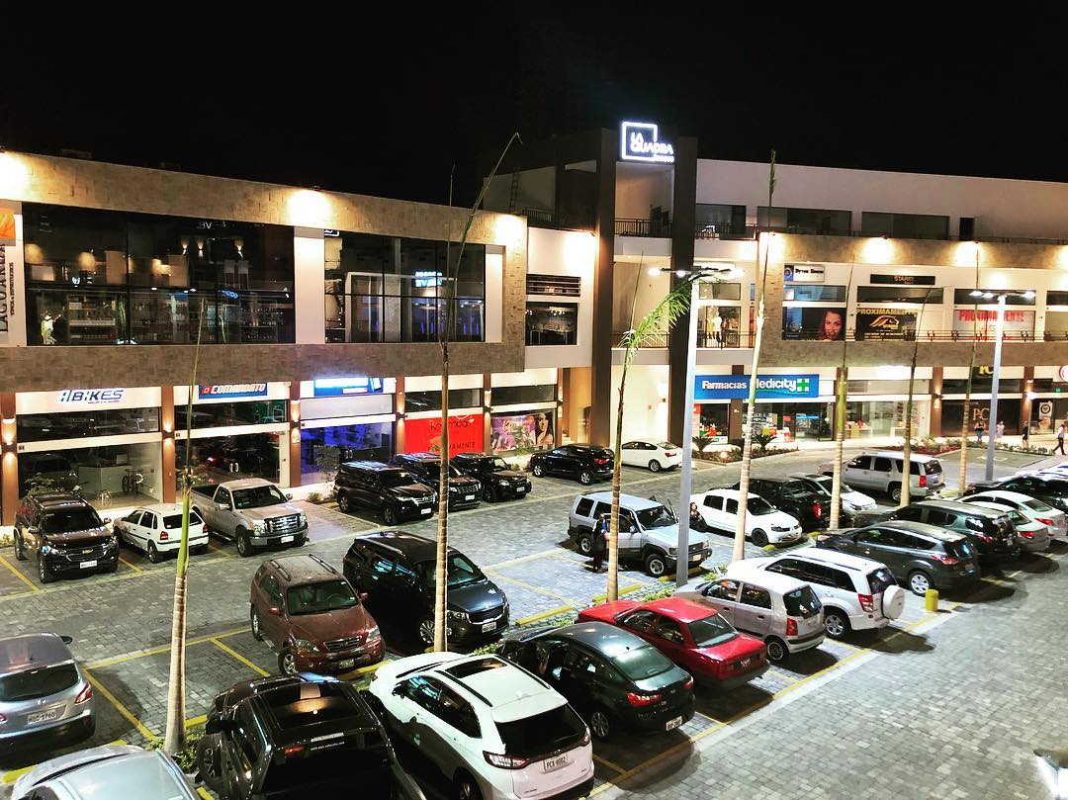 So there you have our guide to nightlife in Manta. If you are an Expat looking to move to Manta there is also a great Expat club that meets every Thursday evening for drinks and a meal. If you grab one of our custom private tours and are in town overnight we will undoubtedly take you to one of these spots for a nice night.
For more information, you can read our Blog post 10 best things to do in Manta Ecuador.