A Hidden Gem for Retirement and Second Home Buyers in Ecuador
I. Introduction
Manta Ecuador Real State.  Welcome to the enchanting coastal city of Manta, Ecuador – a hidden gem nestled along the azure shores of the Pacific Ocean. Known for its stunning beaches, vibrant culture, and welcoming community, Manta has emerged as a sought-after destination for retirement and second home buyers seeking an idyllic lifestyle in South America.
In this blog post, we will unveil the allure of Manta's real estate market and explore why it has become a hidden gem for those looking to retire or own a second home in Ecuador. As you embark on this journey with us, we will delve into the benefits of choosing Manta as your retirement or second home destination. From the affordable cost of living to the pristine beaches and modern amenities, Manta stands out as an attractive option for those seeking an exceptional quality of life.
We will also guide you through the top neighborhoods and residential areas in Manta, highlighting their unique features, amenities, and proximity to the stunning coastline. Whether you prefer a lively beachfront community or a tranquil retreat tucked away from the bustling city, Manta has the perfect neighborhood to suit your preferences.
To truly capture the essence of living in Manta, we will share 3 testimonials and success stories from our expat friends who have already made this coastal paradise their own. Their firsthand experiences will shed light on the unique benefits and joys that come with choosing Manta as a retirement or second home destination.
So, join us as we embark on a captivating journey through Manta's real estate landscape.
II. Overview of Manta, Ecuador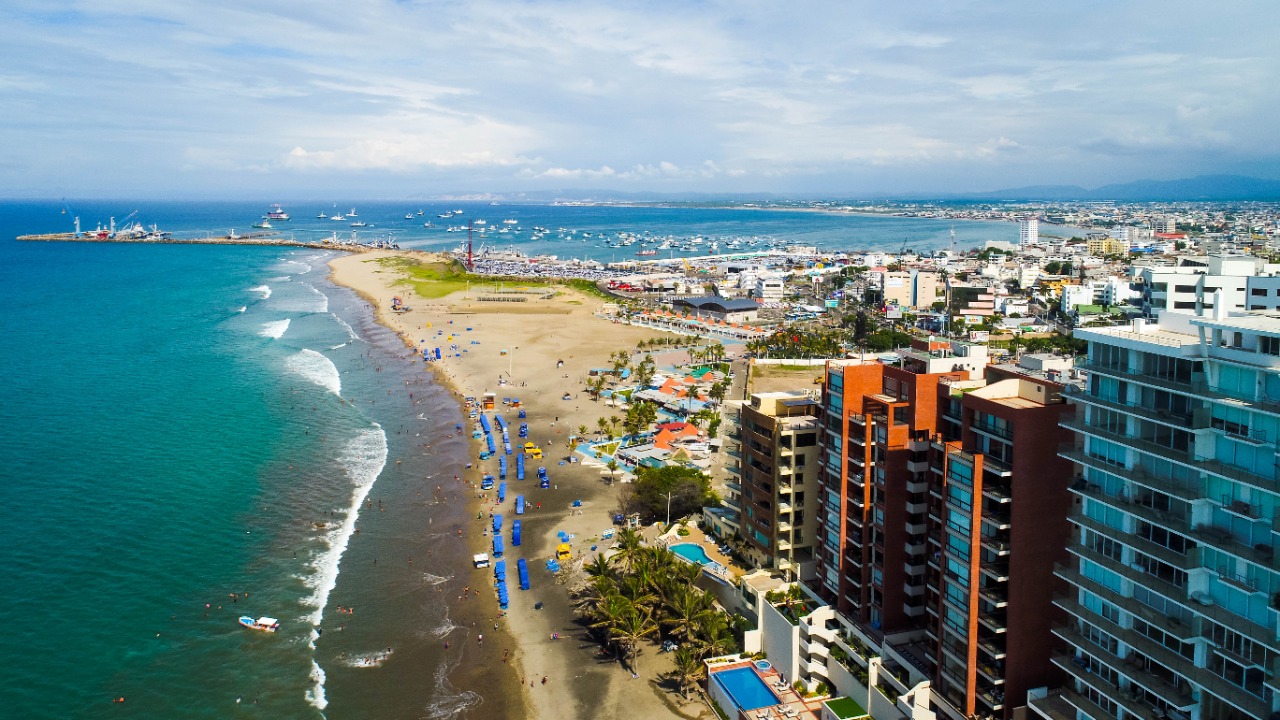 Manta, located on the central coast of Ecuador, is a captivating city that blends natural beauty, rich culture, and a welcoming community. Nestled along the Pacific Ocean, Manta boasts a strategic geographical position, making it an ideal destination for those seeking coastal charm and tranquility.
Manta, Ecuador, boasts a pleasant tropical climate characterized by warm temperatures and a moderate amount of rainfall. The average temperature in Manta remains fairly consistent throughout the year, with highs ranging from the mid-70s to low-80s Fahrenheit (mid-20s to high-20s Celsius). This mild and comfortable climate allows residents and visitors to enjoy outdoor activities and the beautiful coastal scenery all year round. As for rainfall, Manta experiences a wet season from December to May, with the highest precipitation occurring in February and March. During this period, occasional showers and short-lived thunderstorms are common. The dry season, from June to November, brings less rainfall and clearer skies, providing ample opportunities for outdoor exploration and leisure.
Manta real state is not just a picturesque coastal city; it also boasts a vibrant community and cultural attractions. The city is known for its friendly locals as well as expats who warmly embrace visitors and residents alike. You can immerse yourself in the local culture by exploring the artisan markets, sampling delicious seafood delicacies, and experiencing the lively festivals and traditional celebrations.
Safety is also a noteworthy aspect of Manta. The city takes pride in maintaining a peaceful and secure environment for its residents and visitors, allowing them to enjoy a worry-free lifestyle. Much safer than other parts of the country.
In terms of amenities and infrastructure, Manta offers a range of modern facilities. From shopping centers and restaurants to hospitals and schools, residents have access to essential services and conveniences. This blend of natural beauty and urban convenience is what sets Manta apart as an attractive destination for retirement or owning a second home.
Whether you're seeking a tranquil retreat away from the city or an active lifestyle with an array of recreational activities, Manta caters to a variety of preferences. The city provides opportunities for water sports such as surfing, fishing, and scuba diving, as well as golfing, hiking, and exploring nearby national parks.
Manta's location also offers excellent connectivity. The city is home to an international airport, making it easily accessible for both domestic and international travel. This accessibility allows residents to stay connected to their home countries or explore other parts of Ecuador with ease.
In conclusion, Manta, Ecuador, encapsulates the essence of a coastal paradise. Its stunning natural beauty, vibrant community, favorable climate, and modern amenities make it an appealing choice for retirement and second home buyers. Whether you seek a laid-back beachfront lifestyle or an adventure-filled retreat, Manta offers a perfect blend of serenity and opportunity.
III. Benefits of Retiring or Owning a Second Home in Manta
After 15 years living here we can see many benefits of Retiring or Owning a Second Home in Manta, Ecuador:
Affordable Cost of Living: One of the significant advantages of retiring or owning a second home in Manta is the affordable cost of living. Compared to many other retirement destinations, Manta offers a lower cost of housing, groceries, dining out, and entertainment, allowing retirees to stretch their savings and enjoy a comfortable lifestyle without sacrificing quality.
Pristine Beaches and Natural Beauty: Manta is blessed with breathtaking beaches and stunning coastal landscapes. Owning a second home or retiring in Manta means having easy access to pristine sandy shores as well as views of the breaching whales each year.
Modern Infrastructure and Amenities: Manta boasts modern infrastructure and a range of amenities that cater to residents' needs and desires. The city has well-developed healthcare facilities, shopping centers, restaurants, and recreational options. This ensures that retirees and second home owners have access to essential services and enjoy a comfortable and convenient lifestyle.
Healthcare Services: Healthcare is a significant consideration for retirees, and Manta offers excellent healthcare services. The city has modern hospitals and clinics staffed by trained professionals, ensuring access to quality medical care, much cheaper than in the US.
Favorable Tax and Legal Environment: Ecuador has implemented several measures to attract foreign retirees and second home buyers. Retirees can benefit from incentives such as significant tax exemptions on foreign income and importation of household goods.
Favorable Climate: Manta enjoys a mild and pleasant climate throughout the year, with warm temperatures and a refreshing ocean breeze.
Proximity to Other Attractions: Manta's central location makes it an ideal base for exploring other parts of Ecuador. The city is within proximity to fascinating destinations such as the Galapagos Islands, the Andes Mountains, and the charming towns of the Ecuadorian coast and Sierra.
IV. Real Estate Market in Manta
Grand Bay Manta, Condo project
The current real estate market in Manta is experiencing a period of growth and opportunity. The city's popularity as a retirement and second home destination, coupled with its natural beauty and favorable living conditions, has contributed to an increase in demand for properties.
One notable aspect of the Manta real estate market is the affordability of properties compared to other coastal destinations. Buyers can find a range of options to suit their preferences and budgets, including luxurious condos, charming villas, and beachfront properties. The variety of choices allows individuals to find their ideal home that aligns with their lifestyle and financial goals.
Property prices in Manta have shown stability, and in many cases, excellent appreciation over time. This is an encouraging trend for buyers, indicating the potential for a return on investment in the long term. Additionally, the city's growing popularity among international buyers and investors adds to the overall market dynamics.
Developers have recognized the potential of Manta's real estate market and are actively investing in new projects and developments.These developments often feature modern amenities, high-quality construction, and sought-after locations, further enhancing the appeal of the Manta real estate market.
Types of properties available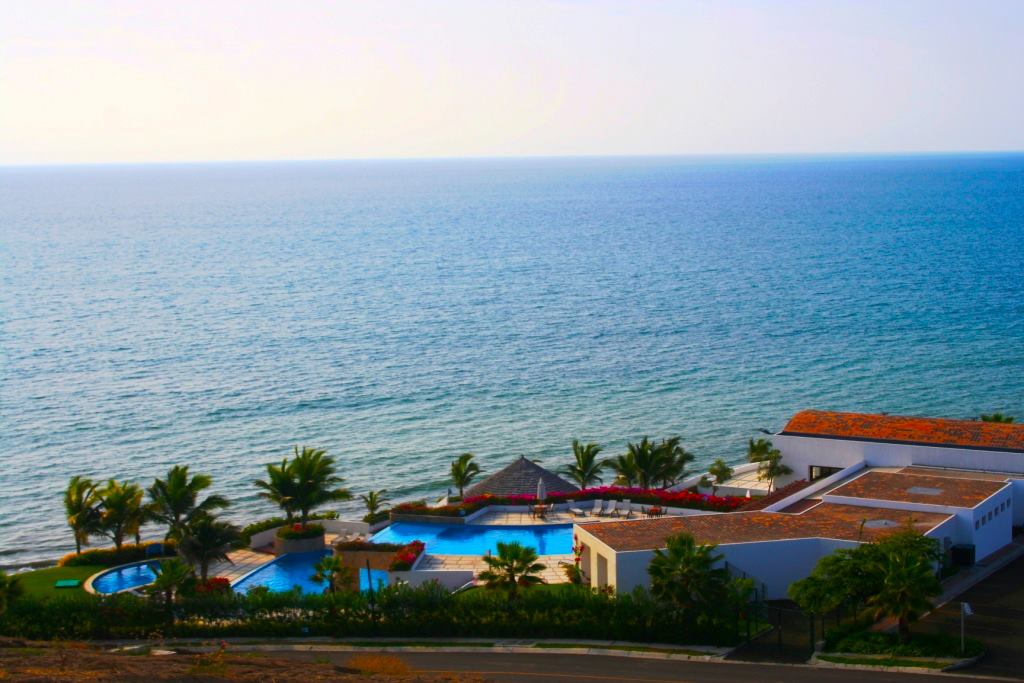 Manta, Ecuador, offers a variety of real estate properties to suit the preferences and desires of buyers looking to invest in this coastal city. The options range from convenient condos to charming villas and coveted beachfront properties, providing a diverse selection for potential homeowners.
Condos are a popular choice in Manta, particularly for those seeking a low-maintenance lifestyle. These multi-unit buildings often offer amenities such as swimming pools, fitness centers, and security services. Condos are available in various sizes and layouts, accommodating individuals, couples, and families. They provide a convenient and modern living space with proximity to amenities and attractions.
Villas in Manta offer a blend of elegance and space, ideal for those seeking privacy and a more independent lifestyle. These standalone homes often feature multiple bedrooms, ample living areas, and private outdoor spaces. Villas showcase unique architectural designs that capture the charm and ambiance of Manta. Many come with luxurious amenities such as private pools, gardens, and stunning ocean views.
For those seeking the ultimate coastal experience, beachfront properties in Manta are highly sought after. These properties provide direct access to the sandy shores and breathtaking ocean views. Buyers can choose from luxurious beachfront villas or upscale condos, both offering the serenity and beauty of living by the sea. Beachfront properties provide an idyllic setting for water sports enthusiasts and beach lovers, allowing residents to enjoy the coastal lifestyle to the fullest.
In addition to condos, villas, and beachfront properties, Manta also offers investment opportunities in the real estate market. Buyers can explore options such as rental properties or commercial ventures. The growing tourism industry in Manta creates a demand for vacation rentals, presenting an opportunity for investors to generate income. Commercial properties such as retail spaces and office buildings also hold potential for those interested in commercial real estate ventures.
Whether one seeks a convenient lifestyle, a luxurious retreat, or an investment opportunity, Manta's real estate market caters to various needs and preferences.
Real states prices in Manta
One of the standout features of the real estate market in Manta, Ecuador, is the affordability of property prices. Compared to many other coastal destinations, Manta offers an attractive and cost-effective option for buyers looking to invest in real estate.
On average, beachfront condos in Manta can range from around $100,000 to $500,000 or more. The lower end of the price spectrum may include smaller 1 bed units with basic amenities, while the higher end offer larger, more luxurious condos with upscale finishes and additional features such as private jacuzzis etc. Some of the older condos or second line buildings can be even cheaper.
The gated comunbites in manta offer a lot of variety for houses. All with great communal amenities such as pools, fitness clubs etc. House prices in gated communities in Manta can range from approximately $150,000 to $500,000 or more. The lower end of the price range may include smaller houses or townhouses with basic amenities, while the higher end may encompass larger, more luxurious properties with additional features such as swimming pools, landscaped gardens, and top of the range finishes.
The affordability of real estate in Manta allows buyers to maximize their investment potential and enjoy a comfortable lifestyle without compromising on quality. It provides an opportunity for individuals, families, and retirees to own a home in a beautiful coastal city without breaking the bank.
V. Top Neighborhoods and Residential Areas in Manta
Manta, Ecuador, offers several desirable neighborhoods for retirement or owning a second home, each with its unique charm and advantages. Here are a few of the most sought-after neighborhoods in Manta:
Barbasquillo: Located along Manta's coastline, Barbasquillo is a popular neighborhood known for its stunning beachfront properties and main road full of the best restaurants and bars in the city. check out our blog on the

best places to eat in manta

to see many of these options. It offers a mix of luxurious condos and beachfront villas, providing residents with direct access to the beach and breathtaking ocean views 

Ciudad del Mar: Situated just outside of Manta, Ciudad del Mar is a gated community that offers a tranquil and secure living environment. It features a range of properties, including condos, villas, and townhouses, with access to communal amenities such as swimming pools, sports facilities, and green spaces. The neighborhood boasts well-maintained streets and beautiful landscaping.
Umiña: Umiña is a residential neighborhood known for its peaceful ambiance and proximity to the city center. It offers a mix of property types, including condos and villas, at relatively affordable prices. Umiña provides residents with a sense of community and easy access to local markets, restaurants, and essential services. This is where our family lives as we really value being close to everything we need.
Santa Marianita is a charming beach town located just a 20 minutes drive from Manta, Ecuador. Known for its picturesque coastline and laid-back atmosphere, Santa Marianita has gained popularity among locals and international visitors alike. The town offers a serene and tranquil setting, making it an ideal destination for those seeking a peaceful beach getaway. With its long stretches of sandy beaches, Santa Marianita is particularly renowned for its excellent conditions for water sports, including kiteboarding and windsurfing. The town boasts a welcoming community, with a handful of beachfront restaurants, shops, and accommodations that cater to the needs of visitors.
San Lorenzo: San Lorenzo is a neighbouring beach town that combines a quiet residential atmosphere with one of the best beaches on the coast. About 30 minutes drive from Manta, It offers a mix of properties, including condos and villas, nestled among lush greenery. San Lorenzo appeals to those seeking a serene environment while still being close to Manta's commercial and entertainment areas.
VI. Testimonials and Success Stories
We asked a few friends to write a short testimonial about there experience buying in Manta and they were happy to help:
"We fell in love with Manta the moment we arrived. The warm climate, friendly locals, and stunning beaches make it the perfect place to retire. Our villa in Barbasquillo offers breathtaking ocean views and a peaceful environment. We enjoy morning walks along the beach and evenings spent watching the beautiful sunsets. Manta has exceeded our expectations, and we couldn't be happier with our decision to make it our second home." – John and Mary, Retirees from the United States
"Owning a beachfront condo in Manta has been a dream come true for us. We visit our second home a few times a year and are always greeted by the sound of crashing waves and the salty breeze. The vibrant local culture, delicious seafood, and abundance of outdoor activities have made our retirement years truly fulfilling. We've made lifelong friends among the expat community, and every visit feels like a homecoming. Manta has given us a sense of peace, adventure, and a place to create lasting memories." – Sarah and Michael, Retirees from Canada.

"Investing in a condo in Manta was one of the best decisions we've made. The growing tourism industry here has allowed us to generate rental income while not staying in our property. The demand for vacation rentals is high, and we've had a consistent stream of bookings. The return on investment has been impressive, and we've also enjoyed personal vacations in our condo, soaking up the sun and exploring the local attractions. Manta has not only provided us with a profitable investment but also a place we can escape to whenever we want." – David and Lisa, Second Homeowners from the United Kingdom.
In conclusion, Manta, Ecuador, emerges as a hidden gem for retirement and second home buyers seeking a coastal paradise. With its pristine beaches, favorable climate, and vibrant community, Manta offers a unique blend of natural beauty, affordability, and investment potential. The diverse real estate options, including condos, villas, and beachfront properties, cater to various preferences and budgets, ensuring that buyers can find their perfect home or investment opportunity. The affordability of real estate prices in Manta, combined with the city's stability and growth, make it an attractive destination for those seeking a fulfilling and affordable coastal lifestyle. Whether it's retiring by the beach, owning a vacation home, or capitalizing on the rental market, Manta proves to be an enticing choice. With its promising real estate market, welcoming culture, and abundant recreational opportunities, Manta stands as a captivating destination for those looking to embrace the beauty and tranquility of coastal living in Ecuador.