Last week on the 24th of August 2023 we welcomed passengers from the beautiful Coral Princess cruise liner to Manta. We had 3 groups ready and willing to try our new Coffee and Cacao shore excursion. A tour we have been working on updating for several months now. We are so glad to see the results at last. Below we will show the various steps of the tour and what made it so fun for everyone. 
The Coral Princess cruise ship has a passenger capacity of around 2,000 guests and we were thrilled to have so many Australian tourists to meet. Being born and raised in the UK, I can say that we share a lot of culture and humor with Australia. I really enjoyed the laid back, fun loving people we got to meet during the tour. After meeting everyone in Manta´s port passenger terminal we quickly made friends and got started. We staggered the 3 groups so as to avoid too many people in each spot at once so We will stick with group 1´s shore excursion itinerary. 
Rainforest Coffee plantation
First stop we drove along the coast and up though the Pacoche Rainforest to the Coffee farm. This beautiful property is nestled right in the middle of the wilderness on a high hill with some spectacular views of the forest canopy. With plenty of Shade, Hammocks and benches this spot is great for kicking back and trying some of the amazing coffee.
From there we had a walk through Coffee plantations, listening to the birds and learning about the local flora and fauna. We even got to try some coffee cherries which are just starting to bloom. On the way back we were lucky enough to hear the howler Monkey´s chorus as they announced to all concerned that this is their territory. A few of the long sighted amongst us could spot a few of them moving around on a large Avocado tree down in the valley.
Clifftop views of the Pacific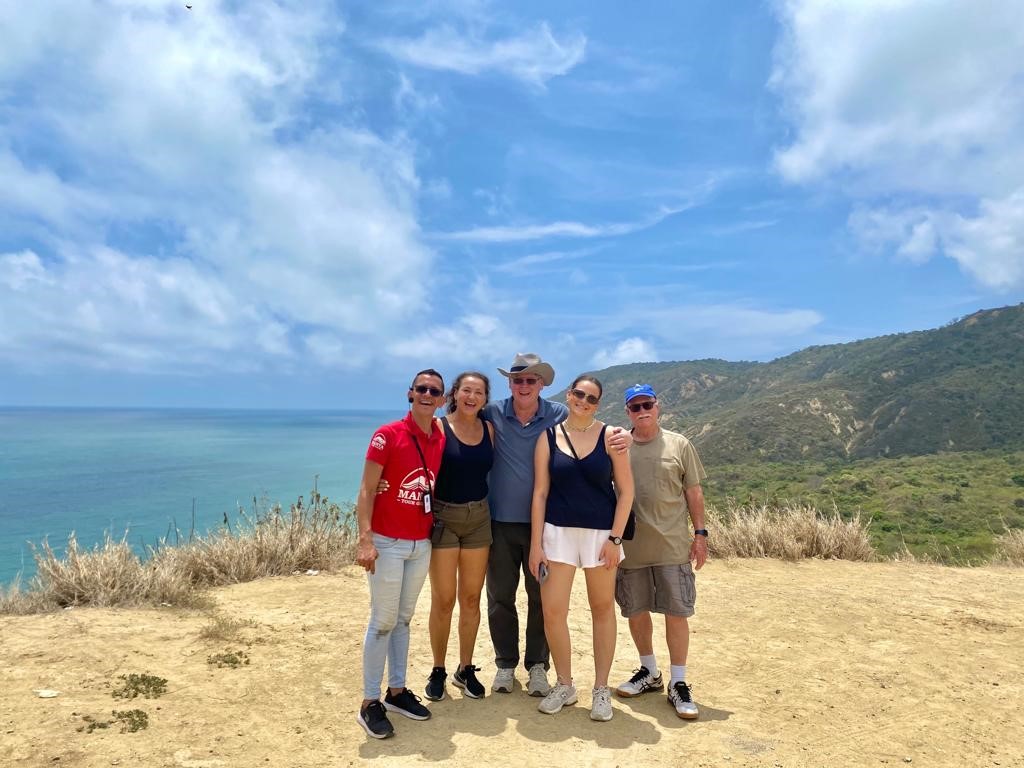 After everyone had tried some coffee and many tourists bought a bag or two to take back home, we made a quick stop at the cliff top light-house in San Lorenzo. This spot has some of the best views of the coast you can get. Still part of the Pacoche national reserve, there is a lot of interesting bird wildlife on display here with Pelicans, Frigate birds and sometimes some blue footed boobies. However we were hoping to take advantage of the views to get a look at a much larger animal. We were not disappointed. Within less than a minute of getting off the bus someone spotted the first  Humpback whale breaching a few hundred meters off the cliffside. Within moments we had spotted several groups spread across the panoramic views slowly making their way up from the southern hemisphere. The fact it was an almost windless day and there were no white capped waves on the sea, really helped spot the magnificent creatures quickly.
Top class food in the middle of the rainforest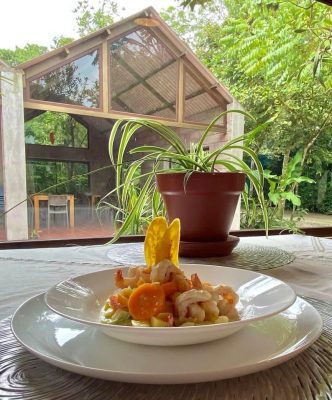 Having seen enough Whales for the time being, we headed back towards Manta. The next stop was the Rainforest Restaurant. Here we got to try some local delicacies such as Bolones and Tigrillo. Check out our best places to eat blogs to see what they are. To our Aussie friends' horror the local beers ran dry after the second group arrived. However a quick trip in the Ute (Australian slang for pick-up truck, pronounced YOOT) soon fixed that problem and we were back in business. Our friends at the fantastic restaurant El REENCUENTRO really know how to prepare a good meal. 
Next we headed to Montecristi for a visit to the panama hat makers shop. We saw the demonstration of how these world renowned hats are hand woven from finely selected and cured Toquilla straw. After all these years here I still can not believe how they can weave such intricate shapes. Many of our new friends had a great time getting involved with the process and a lot of hats came back with us on the bus.
Modern ecuadorian Chocolate factory
Once everyone was ready we drove back towards Manta for our final stop. The pièce de résistance in my opinión. The chocolate factory and coffee shop. This is the newest addition to our route and is without doubt one of the most professional and well designed artisan chocolatiers shops I have ever seen. The Husband and wife owners Jonathan and Angelica have created a real diamond in the rough. They have turned a 40 foot refrigerated shipping container into an amazing production line with extremely high end equipment, expertly installed and operated. The best part is the cut out the end of the container and fitted glass to it, and built the coffee/chocolate shop around the factory. So you can see the chocolatiers working while you try the results. It goes without saying, chocolate is divine.
Ecuadorian chocolate tour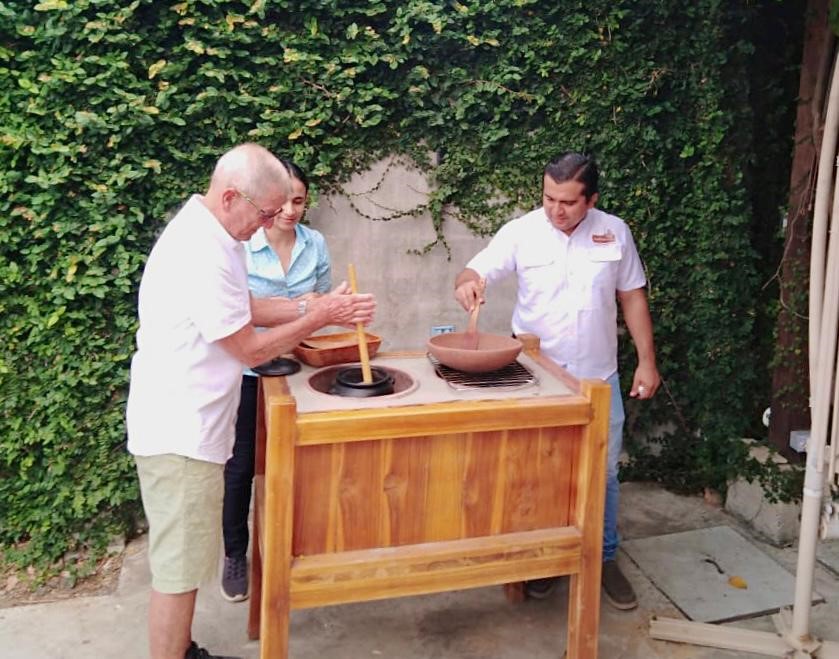 Apart from all the great chocolate options, Jonathan and Angelica have prepared a great Cacao exposition. Showing how to take the raw beans from the cacao pod and process it step by step into chocolate. My favorite part is trying the sweet juicy pulp from the pod that coats each bean. I could spend all day talking about this part, but I won't spoil all the fun facts. Rest assured we learned a lot about the history, production and various products made from Cacao as well as getting our hands involved with the various stages.
Delicious local artisan products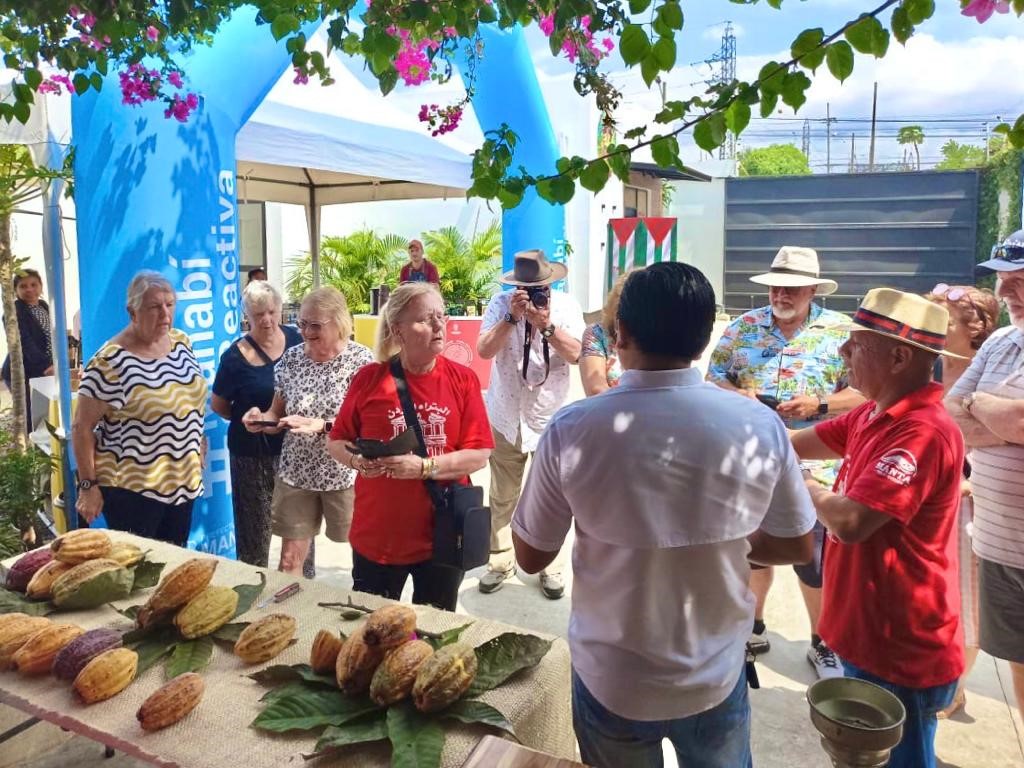 As an added surprise the local province governor's office organized a tasting fair for several of the best local products made in Manabi. Everything from sea salt mixed with Raw cacao chips, to local spicy sauces and wines. My personal favorite was the slightly spiced eggplant "Bon Appetit" Chimichurri sauce made by a very friendly English speaker, Mr Roick. My god, I bought a jar only a week ago and it's nearly empty already. 

All in all this was one of the most enjoyable tours we have had for a long time. I was thrilled to receive so much positive feedback from our clients. Thanks to everyone involved and most of all thanks to our Aussie friends for the kind words and reviews. If you are interested in taking this tour I highly recommend it. You can click here to see the booking details