Our best selling tour is, without a doubt, the Rainforest Pacoche Shore Excursion. It's a great mix of activities and sights that attracts a lot of savvy travellers. As the Name suggests the Pacoche rainforest is the main attraction, so we are going to write a little about what makes this area of Ecuador so interesting.
Cover photo: Bamboo and wooden bridge at the end of the Pacoche tour
What is the Pacoche Reserve?
If you know anything about Manta then you know it is mostly arid dry land. We have a very low yearly rainfall here even during the wet season. While Guayaquil can get torrential rains flooding the streets and causing mudslides for several months of the year, we barely get 10 rainy days a year. Normally the rain will come down in buckets for a few minutes then it's back to the warm sun. Hence the countryside is normally very dry and dusty. Then in the middle of all that, there is a focus Microclimate called Pacoche.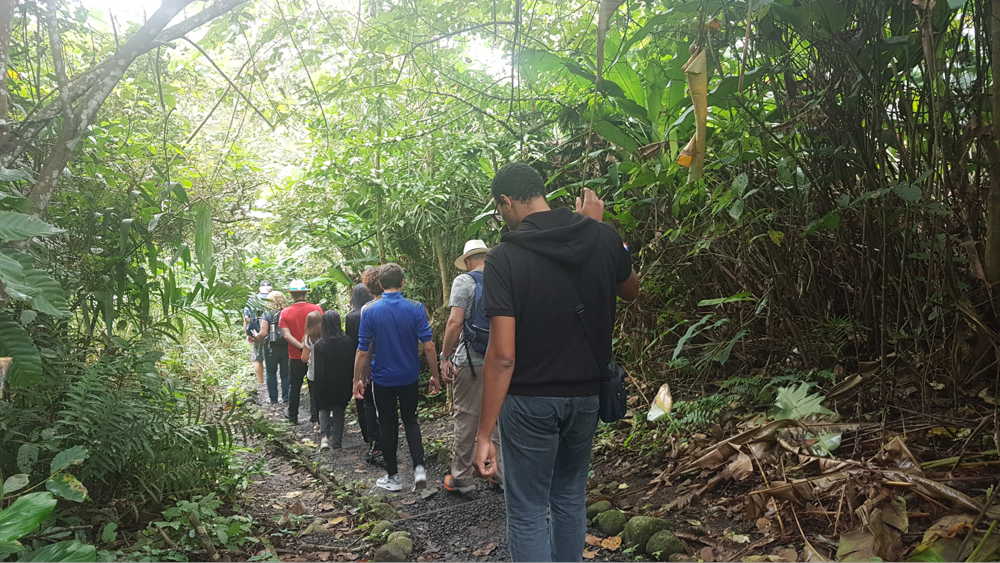 This strange climate phenomenon results in a humid rainforest being maintained by low clouds forming off the coastal airflow causing almost constant condensation and rain most evenings. The forest extends to around 13.000 hectares with a national park protecting just over 5045 hectares. Officially named the Pacoche Wildlife Refuge in 2008, it has been protected and maintained by the park rangers ever since. The Area we visit is the "Sendero de Monos" or the Monkey Trail in English.
Pacoche Weather
So what kind of weather should you expect when taking a shore excursion in here Manta. Normally during the day, it is a very pleasant 24 to 26 degrees and mostly dry. Be prepared for a shower though as it has been known to be rainy in a rainforest. I never take a coat because the rain is warm and I'm used to it, but many people will prefer a small windbreaker or plastic poncho just in case. The main factors that I recommend taking into account are;
Comfortable walking shoes, that can handle some slippery mud.
Bug repellant or long trousers and sleeves.
The shoes are top of my list for a reason. Please don't bring unsuitable shoes to the rainforest. We have seen people slip over all too often when they arrive in flat bottomed sandals or trainers. Again Rain + Forest = Mud.
For the bugs, I don't use any repellant. I prefer long trousers or pants. The mosquitos here favour an exposed leg I find, so long pants and a t-shirt are enough. If you are sensitive to bug bites then I would recommend lathering up with a little before we start the monkey walk.
The rainforest trail is one of my personal favorite activities in Manta. A little rain and bugs won't stop me or my family enjoying the fresh forest air and shade. Check out the other things we love to do apart from the Pacoche Rainforest on our recommended list of Top things to do in Manta.
Pacoche Wildlife
What is there to see in Pacoche? Well, the monkey trail holds many packs of howler monkeys and Capuchin monkeys. It's more common to see the Howler monkeys up close as the capuchins are easily spooked. Whereas the Howlers will be lazing in the trees above you, not in the slightest bit bothered by our presence.
Sometimes we can get right under them and if you are in a quiet group they have been known to come down and walk right by us. I once had the pleasure of falling asleep on a hammock tied between 2 trees in Pacoche. When I opened my eyes there was a howler monkey coming down the tree half a meter from my feet. He jumped down to the floor and hobbled off to climb another. He had wanted the grapes I had been eating I bet.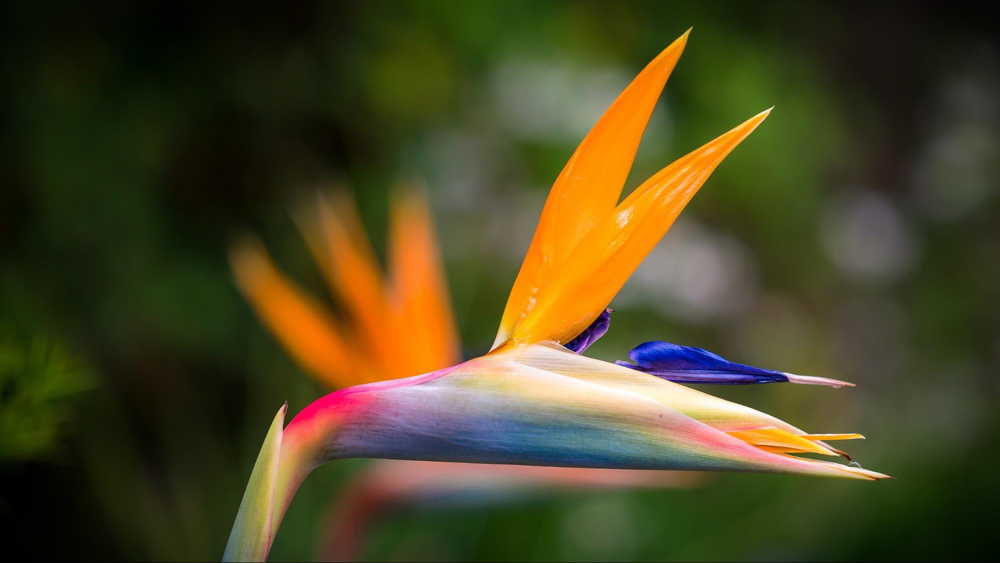 Apart from the Monkeys, the green abundance is full of interesting flora and fauna. From the palm plants that are used to make the Panama hats, to the giant palm that produces Tagua, known as vegetable Ivory. The beautiful Heliconia flowers attract hummingbirds, and we almost invariably get to see a local species of Tarantula.
When to visit Pacoche
The Monkey trail is open to the public 7 days a week although it is obligatory to pay a local guide authorized by the environment ministry to show you around. The best time for Shore excursions is either early in the morning or in the afternoon. According to one of the great local guides Carlos, if you can get there at 8 or 9am then its almost certain you will catch the monkeys. It is never 100% though and we have seen them throughout the day on different visits.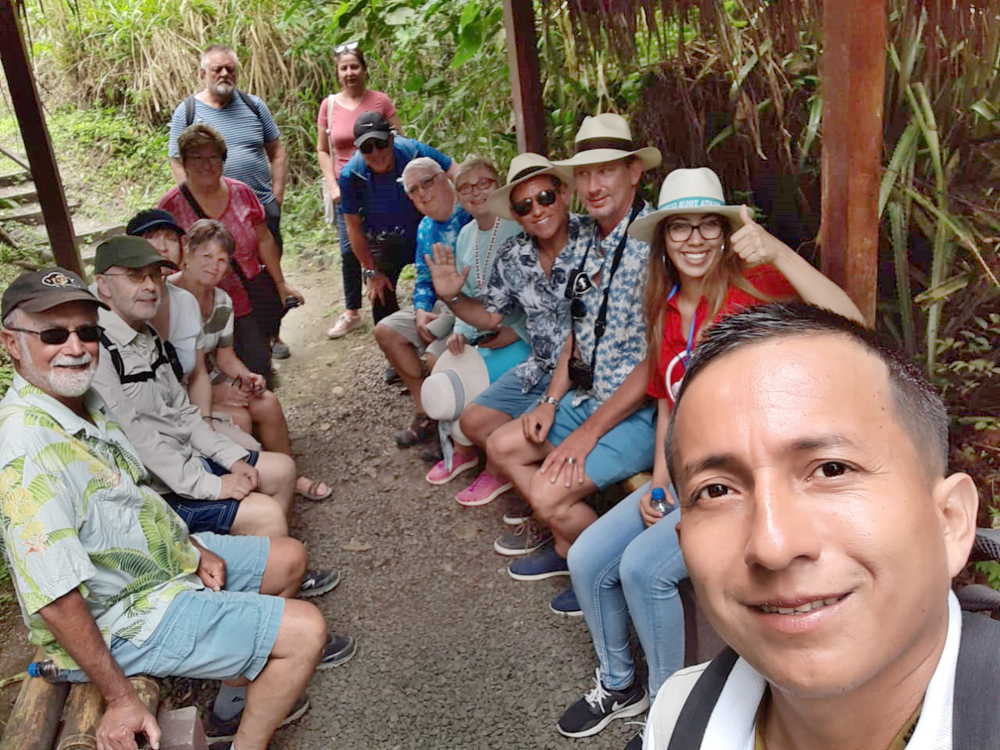 Remembeer this is a Nature reserve, not a Zoo. So the rangers will not feed the wildlife with the intent of training them to be in a certain place at a certain time. They wildlife has free run of the forest and they may or may not cooperate with your schedule.
Pacoche cost and prices
This costs $20 which is paid directly to the guide and helps support the locals. I much prefer to pay the guide than walk around some of the other trails as you get so much local knowledge and interesting facts from them. Like how to coax a tarantula out of its burrow… I´d pay $20 so I don't have to do that myself any day.
One of the guides, Don Galo is 74 years old and has been walking the trail since he was a little boy. He is as a light on his feet as a teenager and knows every plant, tree, and animal in the whole forest I bet. With our groups we include the price of the guide fee, so don't worry about that.
The walk itself is 2 hours long at a very leisurely pace. I have done it in 90 minutes before. Please take into account that the first half is fairly well maintained with gravel pathways and handrails and wooden steps. This is good for anyone that can handle stairs and a nice walk. After the halfway point, it is Offroad 4×4 time. We will follow a small stream down to the main road and meet the bus there. this section can be rough especially if it has rained hard the night before.
The best flora and fauna are to be seen on the first half so we normally recommend only doing the first half and then heading back the way we came. Unless we have a very active brave group, then we push on through the Jungle. Either way, it is a very enjoyable walk.
How to get to Pacoche?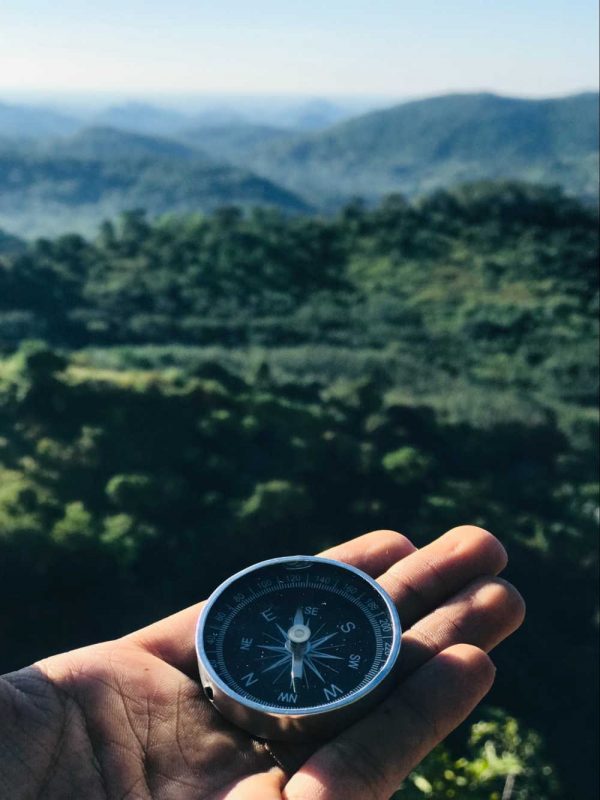 Located about 26 miles South-West from Manta city centre, it is a short drive of about 20 – 30 minutes. A taxi will want anywhere from $30 to $50 to take you there and the danger is he might not be waiting there when you come out of the forest. Not many taxis on those roads to flag down. If you have your own transport click here for directions to the Pacoche wildlife reserve. 
If you are looking for a shore excursion its best you book with a local guide. That way you get guaranteed transport organized and you can take advantage of our local knowledge. We like to tie in a visit to Pacoche with a stop at a local clifftop lighthouse for some amazing views. Add to that a stop at a Panama hat-making families shop for a demonstration of the full Panama hat process, as well as a stop at a fantastic restaurant and I think we have the makings of a great day in Manta.
If you're interested in something like this please click here to see all about our Rainforest Pacoche Shore Excursion.