Whether you are here on a shore excursion or an extended vacation it is good to know where to get the best food in town. My family has been here over 10 years now and we have eaten just about everywhere. In this list, we have included the best traditional Ecuadorian food as well as International food. The first three mentions are 100% homegrown traditional Ecuadorian delicacies. The adventurous types will love them. From the 4th entry onwards we are focusing on all-out good eating no matter where it comes from. Sometimes you're in the mood for a favourite dish, and chances are you will find it at one of these amazing spots. Here is our list of the 10 best places to eat in Manta Ecuador.
What to eat in Manta Ecuador?
Before we get into where to find the best traditional food options, we better explain a little of what these dishes are like. Manta, as well as the Manabi province, have very distinct traditional cuisine. Highly valued in the country by other provinces. Seafood is the obvious one, Manta being the fishing capital of the country. Aslo the countryside cultures have a lot of excellent dishes. A great example is Gallina criolla. A species of rural chicken that is much skinnier than we are used to, and can cost 2 or 3 times as much as a normal plump chicken. Here are some of the best traditional dishes we recommend you try.
[optin-monster-shortcode id="hhtgtp4zih1vkz83msqd"]
Ceviche
(Pronounced Seh-beachy)
This cold fish soup is famous all over the coasts of South America. Prepared with a variety of fish and shellfish to each customer's preferences, the most common type would be Ceviche de Wahoo or mixed seafood. The fish is cut into small cubes and left to sit in lemon juice for several hours. The citric acid effectively cooks the fish and it is eaten cold in the lemon juice. Normally served with diced onions, peppers, peanuts and parsley as well as plantain chips.
Encebollados
(Pronounced En-seb-oh-yah-doh)
A veritable standard for locals this warm fish soup or broth is made with onions, a root vegetable called yucca and normally albacore fish or mixed seafood. This thick and filling dish is standard breakfast for a lot of the population. Especially recommended for hangovers. Served normally with plantain crisps or chips or bread, you can find this on most streets throughout town.
Tongas
This countryside dish normally contains rice, mature sweet plantains, and chicken or pork. All wrapped in a banana leaf and roasted on a wood fire. A smoky, soft and flavourful experience awaits. Pacoche rainforest has some of the best tongas in Ecuador.
Humitas
(pronounced Who-me-tas)
A common snack or desert like treat, these are made from mashed sweetcorn combined with cheese, wrapped in the corn leaf and boiled. Very nice, soft and juicy.
Bolones
(pronounced Boh-lon-es)
A common breakfast lunch or dinner, made by boiling plantains, then mashing them to varying degrees. It is then combined with cheese, pork or peanut paste, pressed into a baseball sized balls and often served with eggs and coffee.
Our personal best 10 places to eat in Manta Ecuador:
1. Fish – Cevicheria
This is the go-to traditional dish for Manta and her inhabitants. When I arrived it was a strange sight to see a cold fish soup-like dish being served everywhere. How do th
ey prepare it I asked? Seafood lovers need to tick this off their list before getting back on the ship or plane. We highly recommend the restaurant called "FISH" a few minutes from the port. We often drop in for a beer and a Ceviche with our Montecristi Panama hat tour groups. This is our favourite place to get a variety of Ceviche or Encebollado dishes, from wahoo, Shrimp, shellfish to squid and octopus, Has to be "FISH". This wonderful little restaurant aims to serve the best and they achieve it. The décor and service are all top-notch and it is a stone's throw from the port and Mall de Pacifico.
2. El Embajador
Manta is a fishing town first and foremost. Its indigenous pre-Columbian cultures were famous fishermen and even freedivers. They traded seafood and shells with many other tribes and cultures. So it's no surprise that the most popular food for the locals is seafood. This restaurant is a little off the beaten track, about 20 minutes to the north of Manta in the smaller fishing village Jaramijo (Pronounced Harah-me-hoh). EL Emabajador translates to the ambassador in English and does a great job at bridging the gap between cultures. There is a huge variety of seafood and fish prepared in every manner imaginable. The place is right on the beach next to the small marina, with stunning views and a year-round cool breeze. I regularly escape manta for a cold beer and some grilled fish so I highly recommend it. Get directions and have a look at El Embajador and their photos here.
[optin-monster-shortcode id="hhtgtp4zih1vkz83msqd"]
3. El Horno
This is my favourite place for a quick lunch. It serves traditional countryside cuisine which is cooked on a log fired grill and stove. The wood smoke flavours and tastes are exquisite. The dishes are normally rice-based with lots of plantain or mature plantains. Beans and lentils, as well as chicken, pork, fish and beef. From time to time they do a great dish called Tongas. This countryside dish normally contains rice, mature sweet plantains, and chicken or pork. All wrapped in a banana leaf and roasted on a wood fire. A smokey, soft and flavourful experience awaits. During the week they do traditional "Almuerzos" which are 2-course lunch deals with a drink that are only $4 o $5. And on the weekend they serve a la carte menus ranging from $5 to $20. Click here for directions and more photos of El Horno.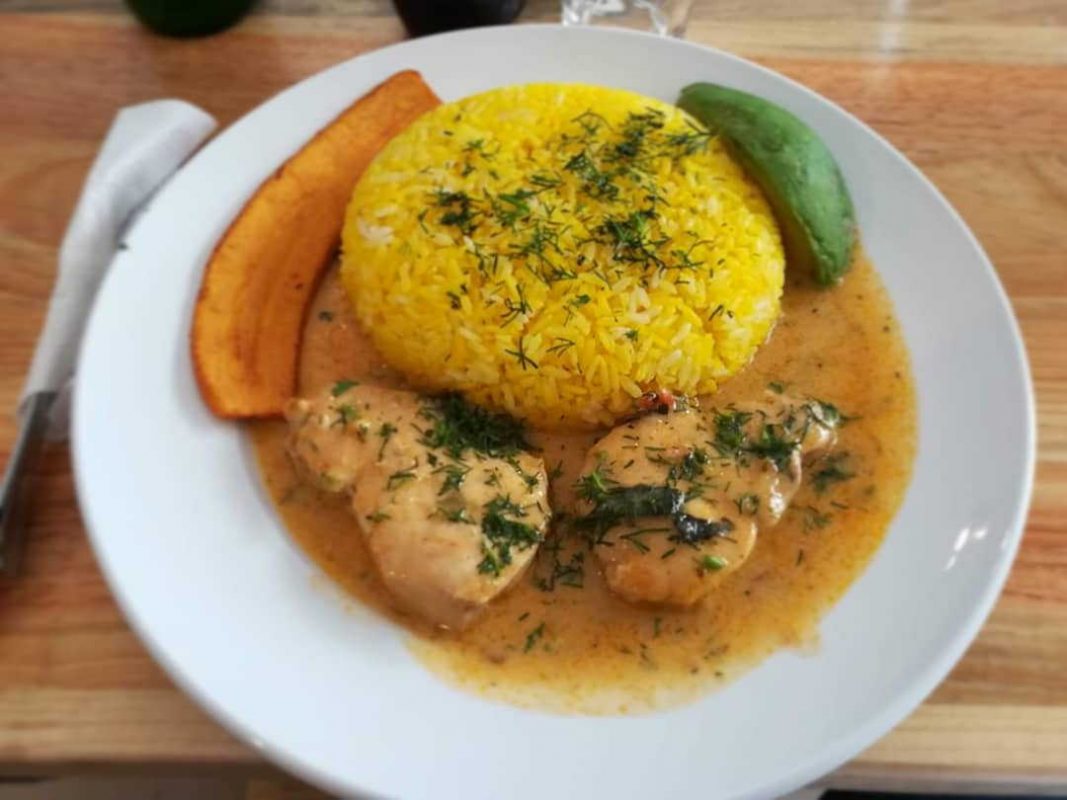 Now that we know where to get the best traditional meals, let's open things up to world cuisine. Here are some more of our favourite places to eat in manta.
4. Sappari
I am a lover of good Sushi, and Señor Marco at Sappari does some of the best. If its sushi I want to eat in manta, I'm going here. He has many traditional Japanese dishes as well as some local fusion options. I crave the Mango, avocado and Squid roll every time I drive past so this is a must-try for me. The Restaurant is located on one of the busy commercial streets, Via San Mateo and is about 15 minutes from the port and city centre. The vibe is very relaxed, comfortable and spacious. The Owner is a very friendly chef called Marco, tell him Tom said Hi. Check out directions and more photos os Sappari here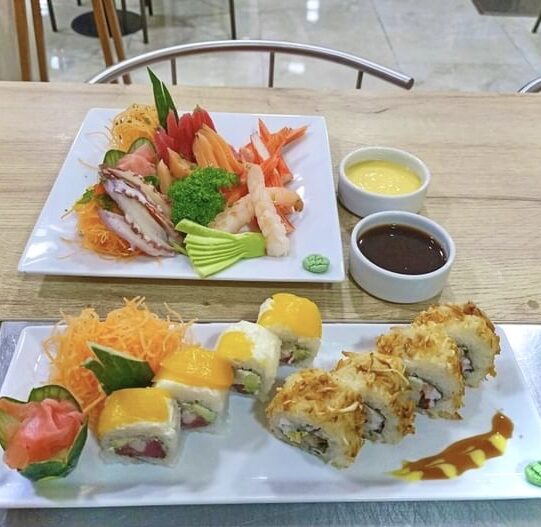 5. Martinica
This is the most widely accepted Queen of fine dining in manta. Excellent food from all corners of the globe served by exceptional staff in a warm Spanish colonial-style restaurant. A favourite for executive dinners and anniversaries it is very rarely less than amazing. The ribs and salmon dishes are some of my top choices. Prices range from $10 to $30 a plate. A rare treat in manta also is the fact that they have their own private parking lot with a guard so it is very safe. Be sure to get there early as it often fills up. See directions and more photos of Martinica here.
6. Finisterre
On par with the last entry, in my opinion, is a Gem. Just slightly off the main road, this restaurant has a secluded and intimate ambience. The food is a mix of Mediterranean and world cuisine. So many good choices on the menu, I don't know where to start. The steak and forest fruit sauce is a treat. They do a great lunch deal for $5 that includes 2 courses and a very small desert. The a la carte menu starts from around $8 to $10 up to $30 per plate. They also mix some amazing cocktails so be adventurous and try some. The fresh bread, oil and balsamic vinegar is a rare treat in Manta too. Here are the directions and more photos of Finisterre.

7. Capperi Ristorante
A young Ecuadorian Chef Rafael, that lived in Rome for several years while working in a well-known restaurant, brought back his talents and opened Capperi in Manta. It is a small intimate restaurant with a mezzanine balcony. I love the friendly atmosphere and service here. Too many wonderful plates to choose from. two of my favourites are the Garlic octopus or the Vegetarian spaghetti.
You can find directions to and photos of Capperi here.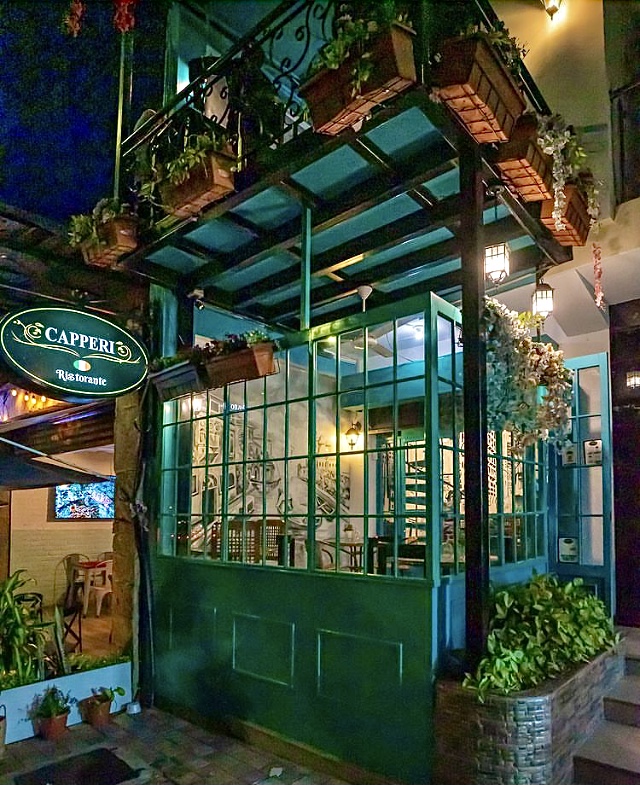 8. Trattoria de Gabriele
Another Italian restaurant that everybody knows is a real special treat. Located on the skirt of the Montecristi mountain with stunning views, in a secluded garden is La trattoria de Gabriele. We often take parties on our Montecristi Panama hat tour. An evening meal here is a luxury with the cool breeze and fragrant gardens. Opening its doors in the year 2000, they are well known for their homemade pasta and organic ingredients. The main attraction is by far the friendly informal service. It is not uncommon to see members of the family-run business pull up a chair and join the diners for a toast or desert. Highly recommended for a romantic meal or a meal among close friends and family. Hidden away this gem is not so easy to find. Please check the directions and more photos here of Trattoria de Gabriele.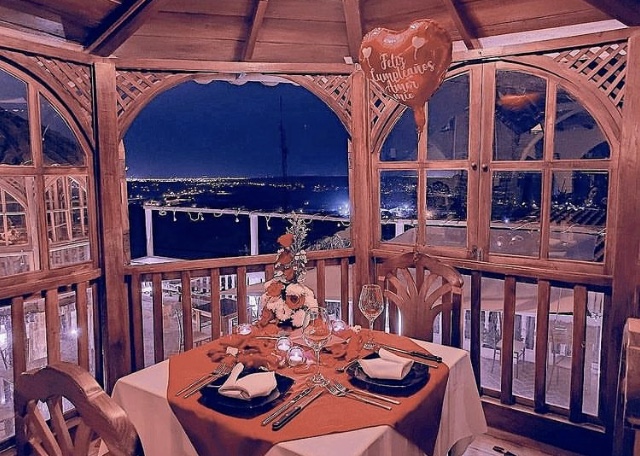 9. El Resero
If you ask a local where the best steak is found, without a doubt this will be the answer. El Resero prides itself on the best quality meat dishes around. The decor is rustic and traditional with lots of bamboo and brickwork. It is located on the southern outskirts of Manta, by the new Sports centre. About 15 minutes from the town centre. Another diamond in the rough, you will need directions to get there. Find directions and photos of El resero here.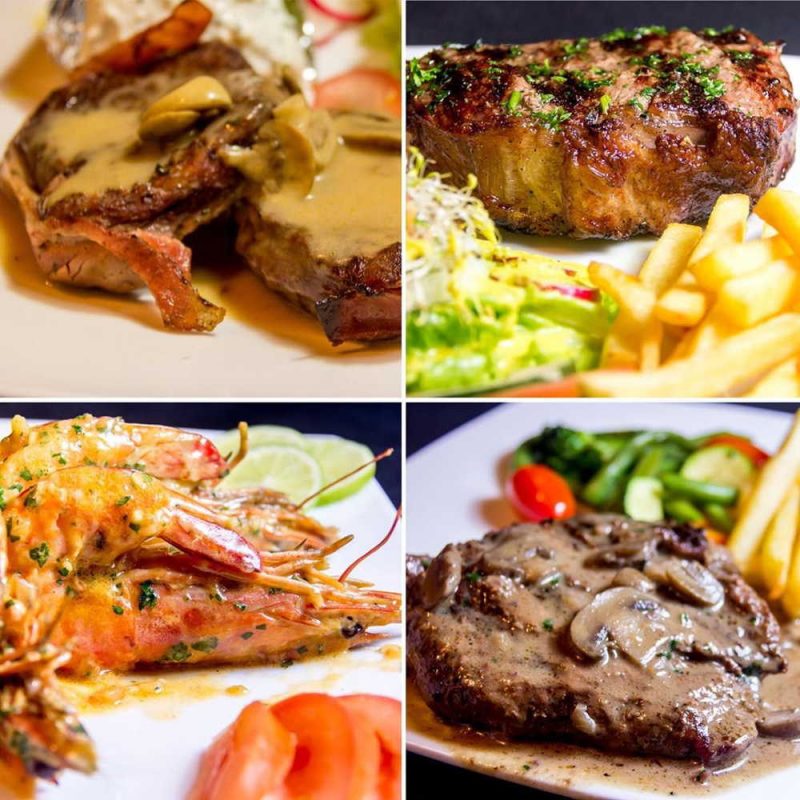 10. Jaimito´s Gringo Pizza
When you want a great pizza for delivery or to eat out there is no better place than Jaimitos gringo pizza. The owner, Jim emigrated to Manta with 20 years of experience running his restaurant in the united states. He very quickly realized we needed some of that expertise and opened up his Italian-American style family restaurant. You can get pizzas and subs made with their freshly made doe as well as other specialities like the New York cheesecake or Artisanal ice creams. Even the Garlic bread knots are to die for. My kids and I fight over every last one. You can find directions to Jaimitos gringo pizza and more photos here.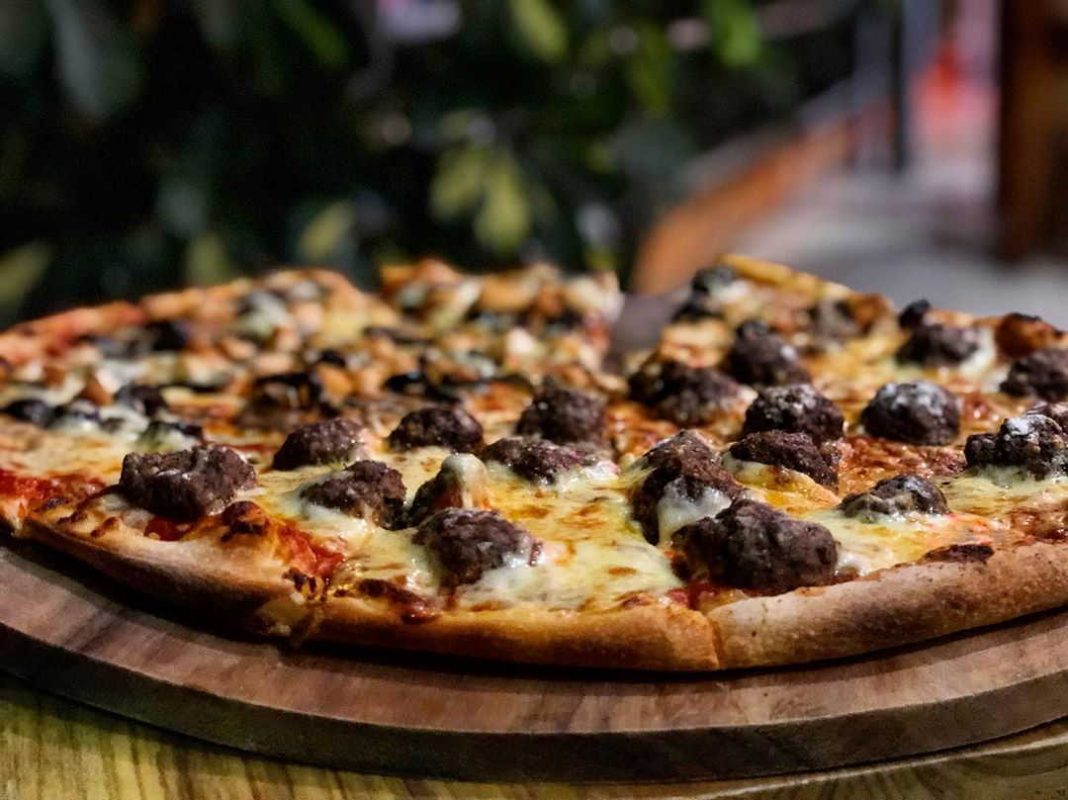 Where to eat in Manta
If you had a look at the map and saw all these restaurants marked in Manta, you would see that the majority of them are concentrated on the western side. This is where most of the high-end development is taking place, with new commercial plazas and lots of restaurants and bars. There are exceptions of course with El Embajador and Trattoria de Gabriele. These make great places to get away from the city and have a more relaxed peaceful meal. There are many more restaurants we could have included topo. The various beaches all have some excellent spots, as well as the city centre. However, we picked the most consistently great places we think our US and European clients would most enjoy.
So there you have our favourites. We hope you enjoy them. We would be happy to arrange visits to any of these options on our day tours and shore excursions, depending on your tastes. So check out our Manta Ecuador Day tours if you would like to find out more about Manta and the surrounding areas.