Beaches in Ecuador are abundant and surely among some of the best in the world. We really are spoilt for choice, but after 10 years living here and visiting some of the most beautiful beaches in Ecuador, I can say with authority that Manta has it all. One of the most popular searches we see popping up is "Manta Ecuador beaches" so we thought it best to share our local knowledge with the world. Please note we have gone to great lengths to use only authentic photos of each of the beaches here to give you the most realistic impression we can. No generic stock photos of sunsets and sandy shorelines. So enjoy our list of the best beaches near Manta Ecuador.
Cover photo: Manta Port and main beach. Image from Instagram: @manta_ec
5th Place – Murcielago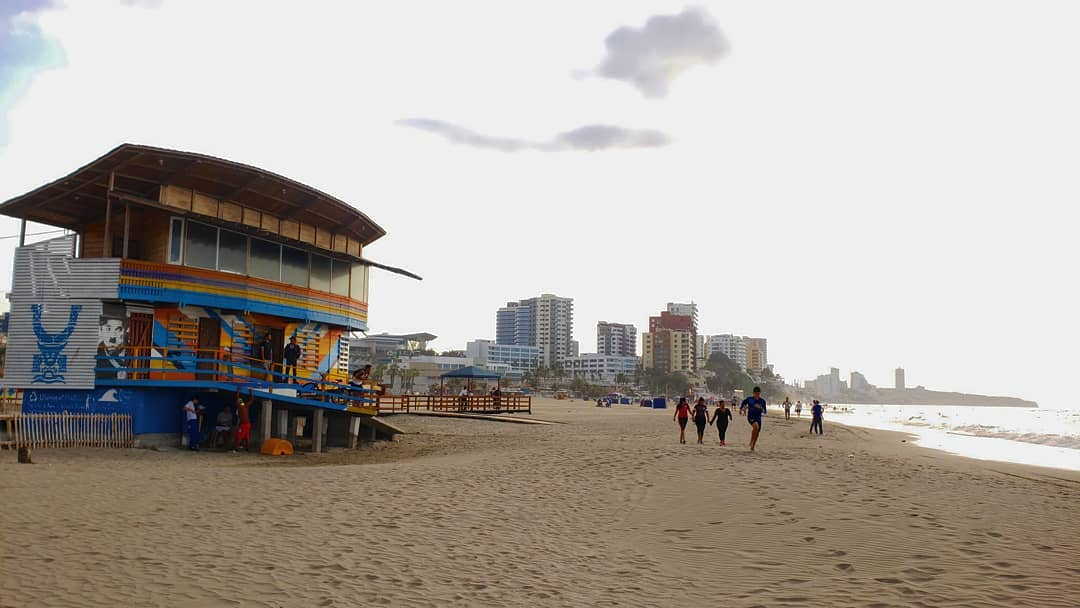 This beach will always have a special place in my heart. It was the first beach I took my wife to when we were dating, and it was the beach where I stumbled on the new friends that introduced me into freediving and spearfishing. Great for early morning or late afternoon walks, my father is often found power walking before 6 am up and down the 2 kilometres of coastline. Very safe with its own small police station. The beach is host to many municipal events and concerts as well as the annual IRON MAN triathlon.
It has a concrete promenade with a lot of average touristy restaurants and bars on and is situated right next to the cruise ship terminal and "Mall del Pacifico". This is the main beach in Manta so it can get VERY full on weekends and holidays. Definitely not the luxury option, most people with cars prefer to visit one of the next few options on the list. Also, beware of the riptides that occur monthly. They often cause people to be sucked out far from shore and unfortunately it is not uncommon to hear of drownings. This is the easiest beach to find being right in the middle of Manta. Click here to get directions to the Playa Murcielago beach
4th Place – La Tiñosa
This idyllic little cove is the place for a quiet, secluded day on the pacific coast. One of the least known beaches near Manta. The Natural cove provides very tranquil and placid waters. The beach is often lined with natural pools of seawater leftover from high tide, great for kids or people that just want to paddle. This beach is off the beaten track in between San Mateo and Santa Marianita. It is also good for snorkelling and diving with a lot of nice rock formations below the surface brimming with sea life. This was where I first learned to freedive and caught my embarrassingly small first fish.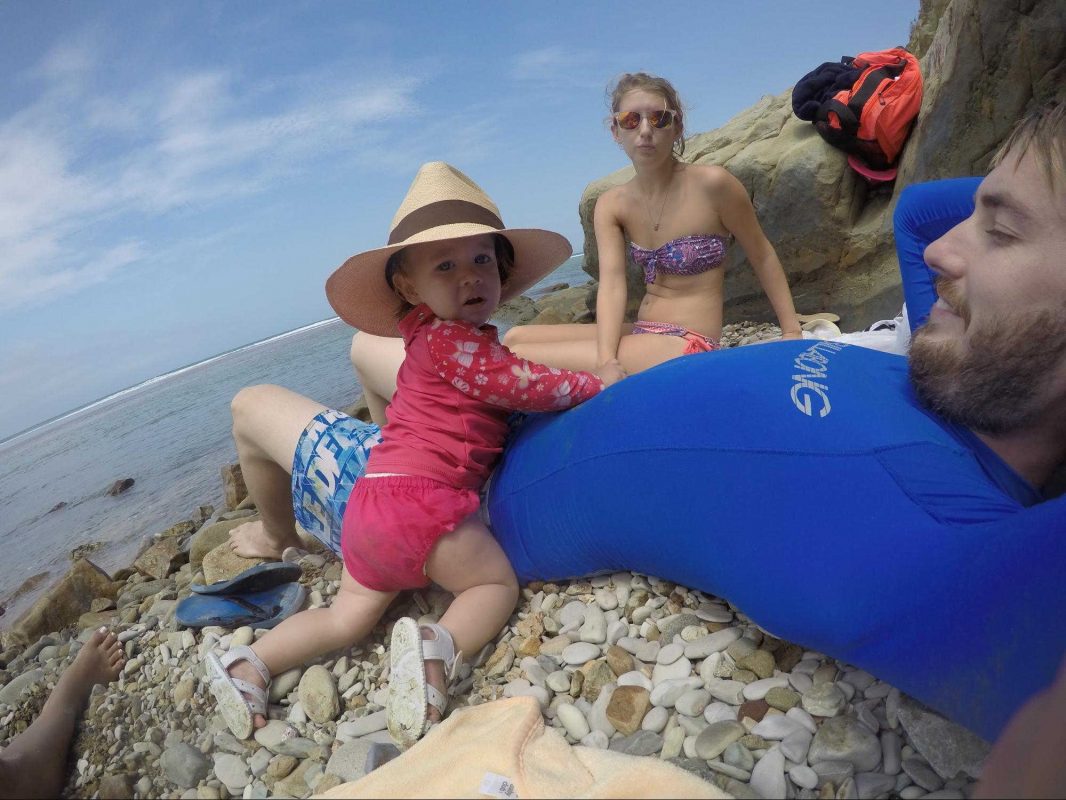 I often take my kids to have a swim and picnic here. This is definitely the 4×4 all-terrain option on the list. There is not much in the way of facilities, so be prepared with your own food, drink and toilet paper. The cliff provides some shade in the afternoons to so I often nod off after a swim. For me, this is one of the most beautiful beaches in Ecuador. Click here to get directions to La Tiñosa beach.
3rd Place – San Lorenzo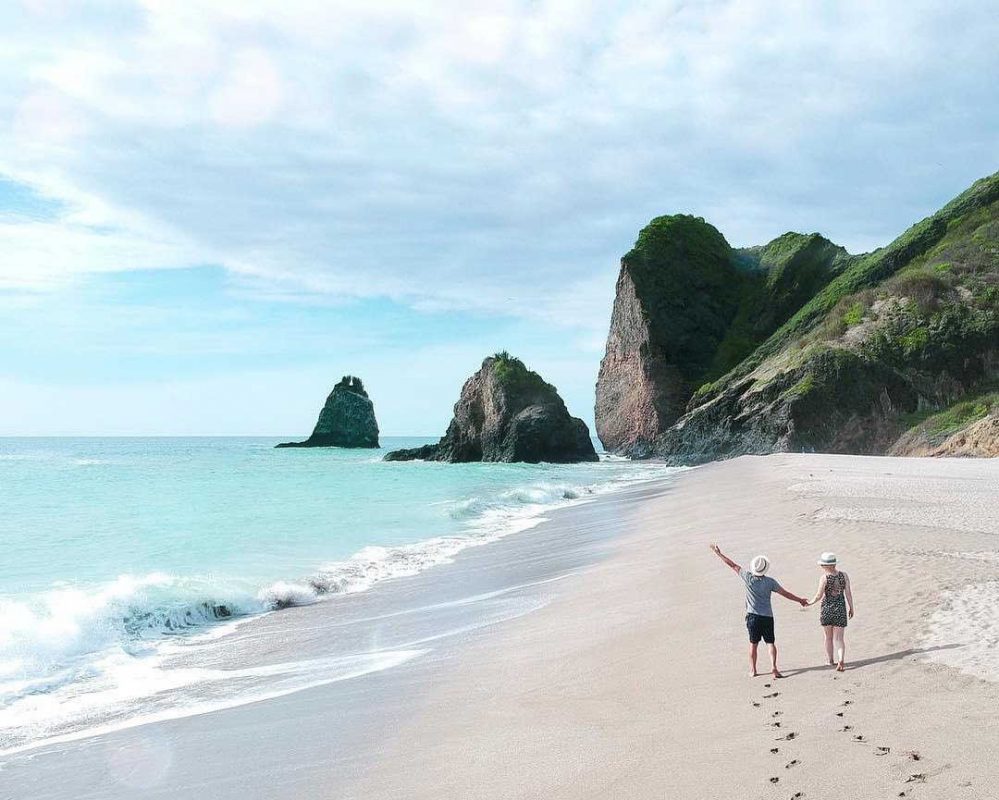 This beach has a lot to offer. San Lorenzo is famous as being a sea turtle breeding ground so during certain times of the year you can witness the amazing hatching process. The baby turtle´s struggle to get to the water is an amazing sight. Strange that out of all the beaches near Manta, this is the only on the turtle species use for breeding.
The rest of the year there is still a lot to see and do. San Lorenzo is dominated by the rolling cliff that marks the end of the high ground as it drops into the sea and merges with the coastline. This stunning terrain divides 2 scenic beaches. On the south side here are some fantastic traditional seafood restaurants on the beach that serve the freshest fish you will get. A handful of scenic family-run hotels, a few owned by expats are also found here. The coarse beach sand is a pleasure to walk on and the clifftops end in the sea with impressive stone columns and rock formations.
From the beach, you can walk up the +600 steps to the clifftop lighthouse for some breathtaking views and photos. We visit here on our Rainforest shore excursion but we often cheat and drive up the backside to start from much further up the cliff. Don't judge, we have already done a 2-hour hike through the jungle by the time we get here, so very few tourists fell like attacking the +600 steps. There are teak built roofed benches for taking a rest and enjoying the pacific view. We will inevitably see whales breaching during the season from here.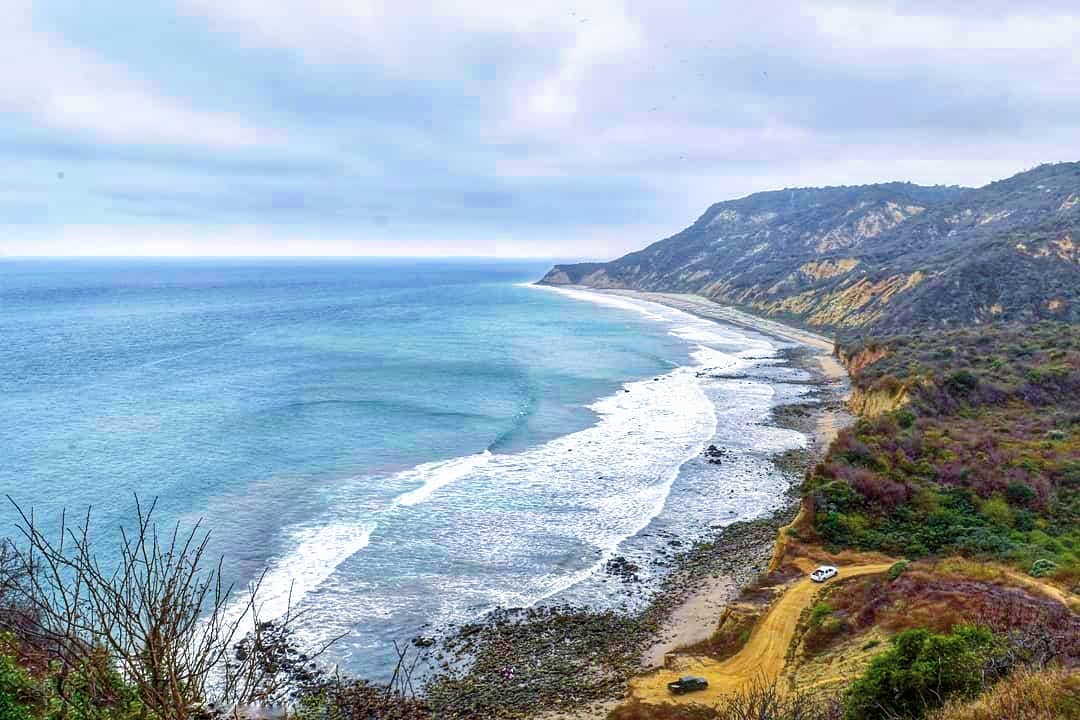 On the north side of the cliffs is a slight cove and virgin beach. Only recently in 2018 did the government plough a dirt road down to the beach. Very rocky and natural it is a nice place to visit and snorkel. With the cliffside erosion creating a myriad of rock formations, corals and marine life playgrounds. I have caught some nice big fish here as well as octopus and lobster. If you are interested in checking out this very special part of the coast, click here to see our Pacoche rainforest tour.
Click here to get directions to San Lorenzo Beach town.
2nd Place – San Mateo
This is another one of the best beaches in Ecuador for me. The natural rock formations and the artisan fishing marina make for a cove-like tranquil sea. A short walk up the beach and there are some nice big rolling waves for the surfers. Next to the breakwater of the marina, it is almost always millpond flat calm. You have any sea condition you could ask for on a day at the beach. Located only 10 or 15 minutes from Manta it is the preferred choice of the cities inhabitants that have a car and want a nice day out on the coast. A lot of people ride their bikes from manta to san Mateo and it is common to see the local cycling clubs all parked outside one of the bars or restaurants
The watersports and activities are varied with Paddleboards, Surfboards, Kayaks, Bodyboards, Jetskis, banana boat rides and all sorts of things to do. I personally love nothing more than a brisk morning paddleboard ride around the port with the family. They are about to open a new inflatable waterpark/obstacle course which will be moored just offshore too. For the less active souls, like my wife, there are plenty of deck chairs with shade tents to rent. Beach bars and restaurants are plentiful and let it be known this place will get chock full of people. So if you want to get parked, plan to get there before midday.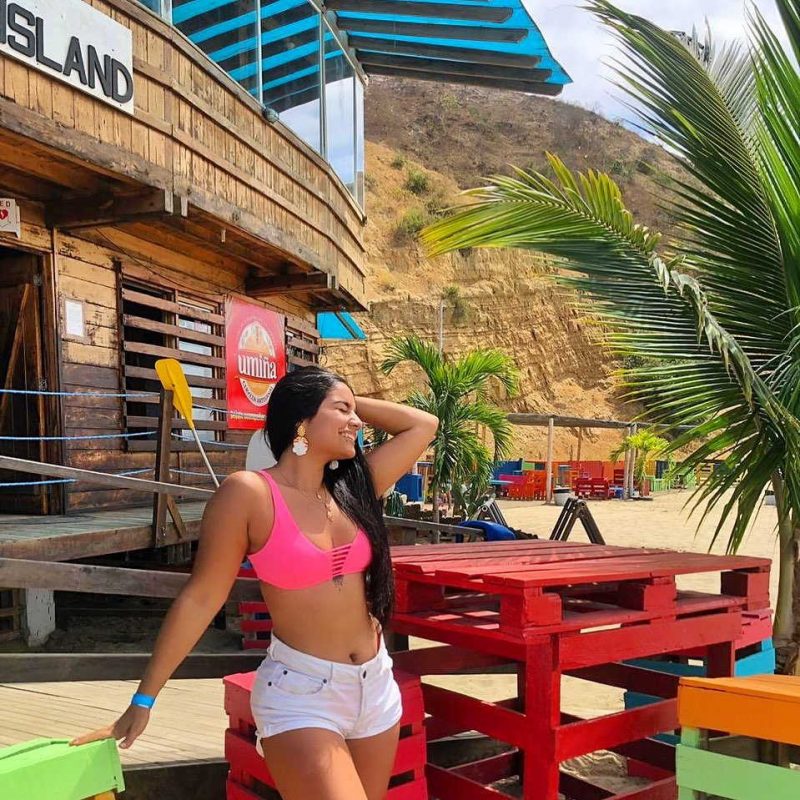 The beach bar Silver Island has plenty of shady areas and serves some divine cocktails. They rent a lot of the board based items and will help you with lessons if you need them. There is often have a fire pit burning on an evening too which is a real treat.
There is a lot of small traditional restaurants to choose from here. They are not luxury Michelin star places by any means. Although, they do have the freshest seafood and local recipes to delight your taste buds. My favourite one is the cabaña right next to Silver Island.
We often stop here on our real estate tours for people that want to get to know the Manta lifestyle. If you are interested in a tour focused on getting to know Manta and its Real estate investment or rental opportunities please click here.
Click here to get directions de San Mateo beach.
1st Place – Santa Marianita
Santa Marianita is a wonderful beach town 20 minutes outside of Manta. They are building a new 4 lane highway straight from Manta to here so it will soon be 10 minutes away. Famous for the spectacular sunsets and watersports, it attracts a lot of tourists. As such, there is a huge number of bars and restaurants. Most of them are traditional bamboo beach cabañas, with some of them being very high-end luxury spots. Ecuablue is a luxury beach bar that is a pleasure to frequent. Run by a US expat, Jonny. I highly recommend the cocktails and ceviche.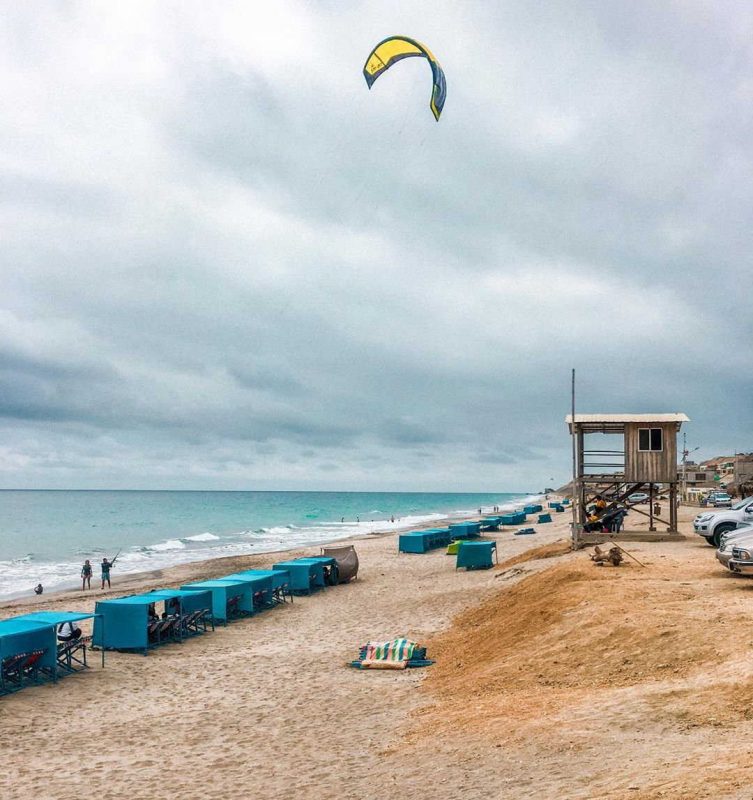 It is amazing how many expats have been attracted to Santa Marianita. I would say a high percentage of the local population are foreigners. Maybe 10 to 20% in fact. It is a real laid back atmosphere. Apart from the "Feriados" bank holiday weekends when it converts into a beach party town. The food here is influenced by so many foreigners and there are some wonderful chefs working. Ecuablue I already mentioned and Don Willy´s is another great joint. As well as Ocean Freaks at the North end of the beach. They are a Kitesurf and watersports centre with an amazing restaurant up top. Run by Ecuadorian Davo and German Karima it is a real treat every time. Its great fun watching the newbies get dragged along the beach by the enormous kites too. Especially while sipping a cold drink.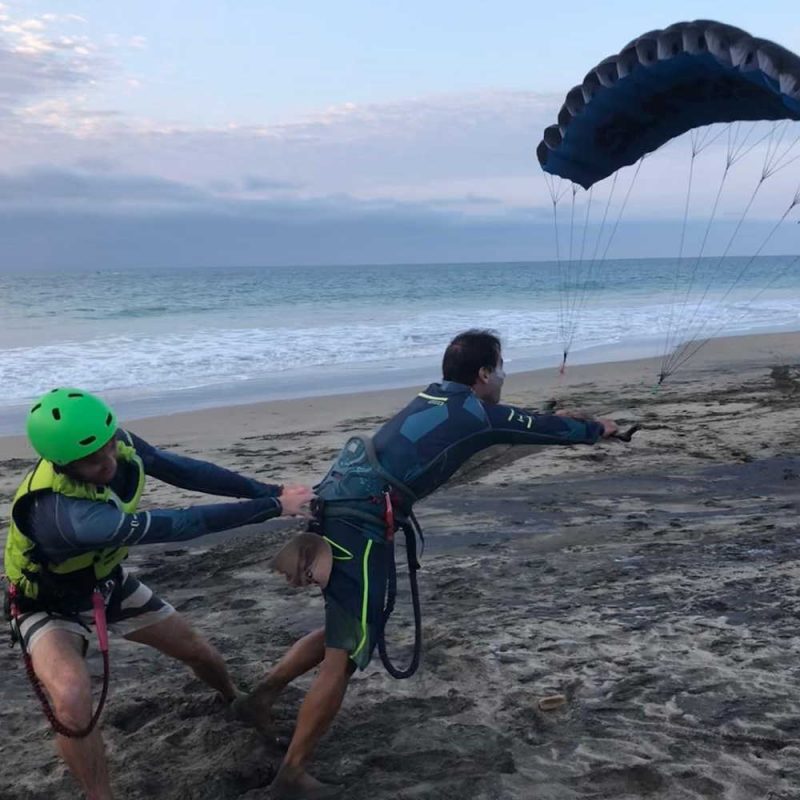 The beach is great for surfing and capable swimmers. The waves can get pretty rough so be prepared. This is such a scenic and pleasant beach that we visit here to top off the day on or Montecristi Panama hat shore excursions. After a day in the Museum and hatmakers shop, we head down to the beachfront restaurants to get a cold beer and some delicious food before heading back to the cruise ship port. If you are interested in this tour click here.
If you would like direction to Santa Marianita beach, Click here.
Conclusion / Disclaimer
When all is said and done sunset on any one of these beaches is a pleasure to behold. So I hope you get the time to visit one or two when you come to Manta. There are a lot of honourable mentions near to Manta as well as further afield, but we will save them for another blog post for beaches not so close to Manta. So remember your sunscreen and have a great day.
For more information, you can read our Blog post 10 best things to do in Manta Ecuador.